In the third & final part of the series on SRTUs, we look at the financial performance. While revenues of SRTUs have increased over the years, the costs have increased at a greater rate resulting in increased losses. Less than 10% of the reporting SRTUs make profits.
[orc]
Debates on whether or not SRTUs need to be privatised are frequent because of the incessant losses faced by them every year. There are multiple factors such as increasing fuel prices, vehicle maintenance charges, operational charges, staff payments and more which contribute to these losses. Delay in governments' reimbursement and subsidies also add to the existing negative balance sheet of SRTUs.
This story is the third & final part of the series on SRTUs which looks at the financial performance of SRTUs in India between 2009-10 and 2015-16 based on the reports published by Ministry of Road Transport & Highways (MoRTH). You can read the previous stories here & here.
Total revenue generated by SRTUs has gone up by 96% in six years
Total revenue generated by SRTUs include both traffic and non-traffic earnings. While traffic earnings are from ticketing, non-traffic earnings consist of income generated through advertisements, sale of scrap, subsidies and other similar sources. Traffic earnings or the income earned through passengers make up a large portion of the revenue of SRTUs. The total revenue made by SRTUs has consistently increased over the years. It can also be observed that the average income earned by a SRTU has increased consistently.
Total revenue of reporting SRTUs has almost doubled from ₹ 26,342 crores in 2009-10 to ₹ 51,748 crores in 2015-16, an increase of 96.4%. One of the reasons behind this is the growing number of buses under SRTUs, that is, rise in the total number of government buses which was already discussed in the first part.
Increased costs add to the woes of SRTUs
Concomitantly, it is evident from the data that the total costs (expenditure) incurred by SRTUs has shot up. During the same period, the costs have more than doubled from ₹ 31,079 crores in 2009-10 to ₹ 64,377 crores in 2015-16. Total cost incurred by SRTUs include operating costs and non-operating costs. Expenses on fuel, lubricants, different parts of buses such as tyres, tubes and spare parts which are required for running buses are covered under operating costs whereas interest, depreciation, tax, rent and other expenses which do not directly affect the daily operations come under non-operating costs.
Total Expenditure of SRTUs up by 107%
Operating costs make up for approximately 73% of the total expenditure while non-operating costs constitute the remaining, around 27%. In the six-year period from 2009-10 to 2015-16, the total expenditure has gone up by 107%. Of the total expenditure incurred, the largest amount has been on staff- approximately 40% of the operating cost. This is followed by expenses on fuel and lubricants.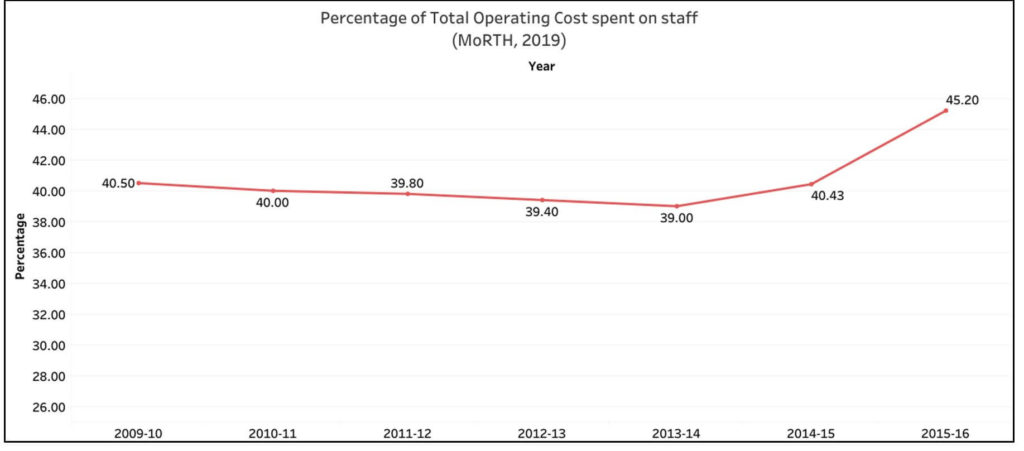 Until 2014-15, the percentage of total operating cost which was spent on staff was between 39% and 40.5%. In 2015-16, about 45.2% of total operating cost was spent on staff. The cost incurred on staff expenses increased by 4.7% in 2015-16.
Net loss of SRTUs has continuously increased
The expenditure of SRTUs has increased at a greater rate than the revenues, resulting in the increase in net loss over the years. From a net loss of ₹ 4,737 crores in 2009-10, the net loss of SRTUs has increased to ₹ 11,350 crores in 2015-16, which is an increase of close to 140% indicating that much needs to be done to make them profitable entities.
Only about 10% of the SRTUs are profitable
Hardly 10% of the SRTUs which have reported to MoRTH make a profit while the remaining (close to 90%) face losses. Until 2015-16, the maximum number of SRTUs which earned a profit in a financial year was five. This number increased to 7 in the year 2015-16. In other words, 7 SRTUs reported profits in 2015-16, which is the highest for any financial year during the period of consideration.
Only PUNBUS SRTU in Punjab managed to earn a profit in 2013-14. PUNBUS has earned profits since then. PUNBUS has over 1212 buses with an average age of 7 years. There are no over-age buses as per the 2015-16 performance report. The staff bus ratio is 2.78 and staff productivity is more than 100 kilometres per bus per day.
Since the number of SRTUs which report every year is different, the percentage of SRTUs earning profits and facing loss is given in the chart below. In 2015-16, Delhi TC faced a loss of ₹ 3,411.09 crores which accounted for 30% of the net loss of all SRTUs. Every year Delhi TC reports the highest loss of all SRTUs.
Telangana SRTC has also been continuously reporting losses. In 2014-15, TSRTC ended up with a net loss of ₹ 401.4 crores which increased to ₹ 701.82 crores in the following year 2015-16 resulting in a 75% increase in the net loss.
What should be made to make SRTUs profitable?
It is true that public transport undertakings make travel by buses simpler, convenient, cheap and reduce traffic. Every nook and corner of the country is connected with public buses.
From the data in the MoRTH reports and the issues discussed in these stories, it is pretty evident that 'public transport' (buses) is highly unsustainable. While profit making is not the primary motive of SRTUs, measures need to be taken in order to sustain the services. Policy interventions are necessary to make bus operations more effective. Best practices can be implemented from PUNBUS such as using newer buses and reduced operating cost which has generated profits continuously for three years. SRTUs also need to focus on the issues faced by common public such as frequency of buses, connectivity and punctuality.
SRTUs serve a very important public purpose which indirectly helps development, economy among other things. Hence it is important that governments also extend support to make SRTUs more efficient & sustainable.
Featured Image: LOVEofZ [CC BY-SA 4.0]