After it was found that well known noodles brand Maggi contained lead in excess of permissible levels, it is the turn of other well known brands. Data from FSSAI indicates that more than 400 product proposals were rejected by FSSAI on various grounds. The list includes well known brands like Tata Starbucks, Kellog's, Venky's, Amway etc.
[orc]
After the well known instant noodles brand 'Maggi' was in the news for three major violations of the Food Safety & Standards Act (FSS Act), it now seems that this is not limited to Maggi. Data available with the Food Safety and Standards Authority of India (FSSAI), more than 400 products are rejected as on 30th  April, 2015. The list of products include products from some well known brands like Tata Starbucks, Kellogs, Ranbaxy, Amway, Venky's etc.
The 'Maggi' Issue
It all started with the sampling and testing of Maggi by the office of Commissioner of Food Safety, Uttar Pradesh and recognizing the serious food safety concerns. The FSSAI then advised the Commissioners of Food Safety in various states to draw samples of Maggi and get the same tested from authorized laboratories.
Three major violations have been noted by the FSSAI
Presence of Lead detected in the product in excess of the maximum permissible levels of 2.5 ppm.
Misleading labelling information on the package reading "No added MSG", and
Release of a non-standardised food product in the market, viz. "Maggi Oats Masala Noodles with Tastemaker" without risk assessment and grant of product approval.
Samples Tested & found adulterated every year
As per the data released by the FSSAI, the percentage of food samples found adulterated is on the rise. In 2011-12, 64593 samples were tested out of which 8247 samples (12.8%) were found adulterated. This percentage went up to 14.8% in 2012-13 and to 18.8% in 2013-14. Out of the 72200 samples tested in 2013-14, 13571 samples were found adulterated. Surprisingly, the number of prosecutions launched has been decreasing since 2011-12. While prosecutions were launched in 83% of the adulterated cases in 2011-12, this percentage went down to 56.3 in 2012-13 and went up to 75.4% in 2013-14.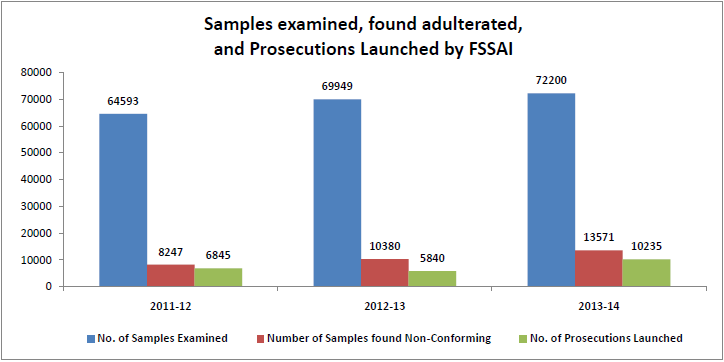 Which other products are rejected by FSSAI?
As on 30th April 2015, more than 400 proposals for products have been rejected on assessment of risk/ safety of the proposed products by the Product Approval & Screening Committee and the Scientific Panel. The list of products includes products of well known brands like Tata Starbucks, Kellogs, Amway, Ranbaxy, Venky's etc.
| Brand | Number of Rejected Products | List of Rejected Products |
| --- | --- | --- |
| Tata Starbucks | 32 | Panna Cotta Pudding, Dark Caramel Sauce with Natural Flavour, Coffee Frappuccino Flavoured Syrup, Vanilla Flavoured Syrup, Hazelnut Flavoured Syrup, Raspberry Blackcurrant Juice, Honey Vanilla Flavoured Sauce, Mango passion Fruit Juice Blend, Bar Mocha Powder, Tiramisu Sauce etc |
| Forever Living Imports | 8 | Forever Vision, Forever Kids, Forever Pro-6 etc |
| Amway India | 5 | Nutrilite Cal Mag-D, Nutrilite Bio C, Nutrilite Iron Folic Tablets, Nutrilite Natural B Tablets etc |
| Herba life | 2 | Food Supplement – Nite works, Formula 2 Multivitamin, Mineral & Herbal Tablets, Herbal Calcium Tablets etc |
| Field Fresh Foods (Del Monte) | 3 | Egg mayonnaise/ Salad dressing variants, Hot Sauce ( Proprietary Food), Natural vinegar |
| Bausch and Lomb Eyecare | 1 | Ocuvite Soft gels |
| Biocon Limited | 2 | Bromelain, Trypchym |
| Biomax Network | 1 | Colostrum Protein Product( Receptol) |
| Dukes Consumer Care | 1 | Chocolate Made Using Vegetable fat ( 5 Products) |
| Ferrero India | 1 | Proprietary product Milky and Cocoa Spreads with cereals and milk chocolate |
| General Mills India (Pillsbury, Betty Crocker) | 1 | Choco Lava Cake |
| Girnar Food and Beverages | 1 | Kesavi Dry Fruit Masala Milk Premix |
| Goodrich Car bohydrate | 2 | Goodrich Cheez delite, Cooking Delite |
| Kellogg's India | 1 | Kellogg's Special K-Red Berries |
| Oriflame India | 3 | Wellness Multivitamin & Minerial women Tablets, Swedish Beauty Complex, Wellness Swedish Beauty Complex Plus |
| Ranbaxy Laboratories | 2 | Revital Capsule, Revital Senior tablets, revital Women Tablets, Revital Tablet |
| McCain Foods India | 1 | Battered Pepper and Cheese Bites |
| Venky's | 2 | Chicken Arabic Style Kofta, Crispy Chicken Burger Patty |
Other than these, there are many other pharmaceutical, nutritional products that are rejected.