Despite 2020 being a difficult year for economies of most countries, global remittances inflows fell by only 1.6%, a much smaller decline than anticipated earlier. In the case of India, remittances fell by only 0.2%. Here are the details.
The World Bank's Migration and Development Brief 2021 provides updates on global trends in migration and remittances. In this story, we explore the major highlights of the brief and look at the trend of remittances among low and middle-income countries, in the context of COVID-19.
Remittances have become an important consumption smoothing mechanism for the recipient households and, as such, they form an increasingly important (private) element of global social protection systems. As highlighted by World Bank's Migration and Development Brief 2021, despite COVID-19, remittance flows remained resilient in 2020, registering a smaller decline than previously projected.
Remittance Inflows: Global trends
Below are the major trends in remittance inflows for the year 2020.
Defying predictions, remittance flows have proved to be resilient during the COVID-19 crisis.
In 2020, in current US dollar terms, the top five remittance recipient countries were India, China, Mexico, the Philippines, and Egypt. As a share of gross domestic product (GDP), the top five recipients in 2020 were, by contrast, smaller economies: Tonga, Lebanon, Kyrgyz Republic, Tajikistan, and El Salvador.
In 2020, officially recorded remittance flows to low- and middle-income countries reached $540 billion, only 1.6% below the $548 billion seen in 2019. The decline in recorded remittance flows in 2020 was smaller than the one during the 2009 global financial crisis (4.8%).
India has been the largest recipient of remittances since 2008. The United States was the largest source country for remittances in 2020, followed by the United Arab Emirates, Saudi Arabia, and the Russian Federation.
Remittance flows to Latin America and the Caribbean grew by 6.5% in 2020 while flows to South Asia rose by about 5.2%. Remittance flows to the Middle East and North Africa grew by a modest 2.3%. Flows to Europe and Central Asia are estimated to have fallen by 9.7%, to East Asia and the Pacific by 7.9%, and to Sub-Saharan Africa by 12.5%.
Foremost among the drivers of remittance flows and reasons behind their resilience during the crisis was migrants' desire to help their families, to send money home by cutting consumption, or drawing on savings. Other drivers included fiscal stimulus in host countries that resulted in better-than-expected economic performance, a shift in flows from informal to formal channels, and cyclical movements in oil prices and currency exchange rates.
It is believed that an increase in the recorded flows was in part due to a broad shift of inflows from informal to formal channels in 2020. There was greater use of digital remittance channels as hand-carry was affected by travel bans and lockdowns. The true size of remittances, which includes formal and informal flows, is believed to be larger than officially reported data, though the extent of the impact of COVID-19 on informal flows is unclear.
Remittance Outflows: Global trends
According to the United Nations Department for Economic and Social Affairs, the worldwide number of international migrants (including refugees) was estimated at 281 million in 2020. The top host countries for migrants are the United States (51 million), Germany (16 million), Saudi Arabia (13 million), Russia (12 million), the United Kingdom (9 million), the United Arab Emirates (9 million), France (9 million), Canada (8 million), Australia (8 million), and Spain (7 million). These countries account for about half of the total international migration stock.
Data on remittance outflows typically get less attention than data on remittance inflows. The largest remittance-sending countries are a mix of high-income countries from the Organisation for Economic Co-operation and Development (OECD), Gulf Cooperation Council countries (GCC), and large middle-income countries. The United States was the largest sender in 2020, recording around $68 billion in outflows, followed by the United Arab Emirates ($43 billion) and Saudi Arabia ($35 billion). Among middle-income countries, Russia is a large sender ($17 billion) due to its sizable immigrant stock from Europe and Central Asia.
Remittance flows dropped in Q2 but improved in Q3 and Q4
There was a sharp temporary drop in remittance flows in the second quarter (Q2) of 2020, as lockdowns and travel bans imposed in response to the COVID-19 crisis also shut down remittance services. It is possible that migrants postponed sending money during the initial chaos in late March and April 2020. Travel restrictions affected in-kind or cash remittances carried by hand by travelers. However, as some of the strict lockdowns were lifted, there was a recovery in Q3 and Q4 in Latin America and the Caribbean (and other regions).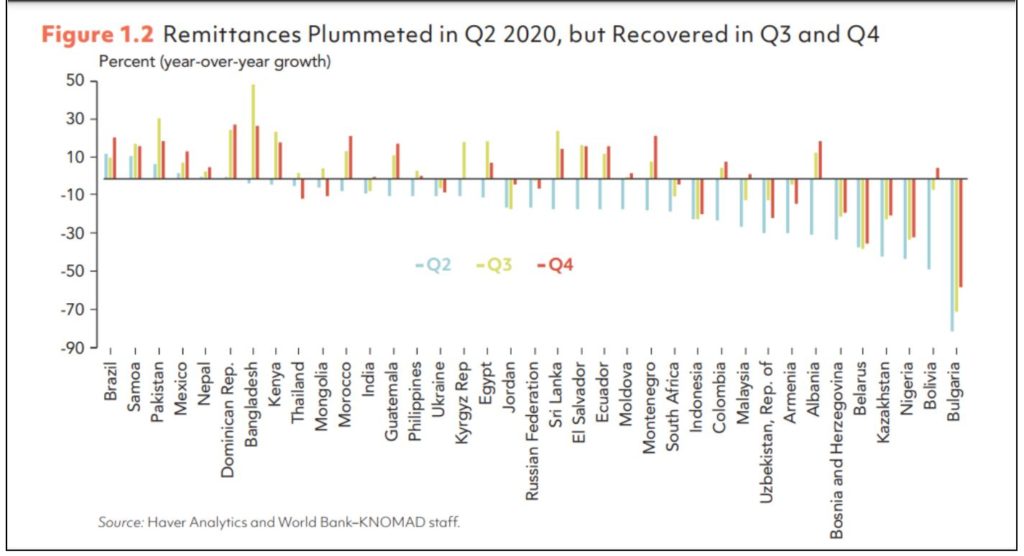 The initial decline in remittance flows affected almost all countries, especially those in the Europe and Central Asian region. There were a few exceptions, however; remittance flows to Bangladesh, Mexico, and Pakistan continued to increase.
Remittances through digitalisation
The remittances industry has participated in the rapid acceleration of digitalization. Starting June 2020, remittance flows through digital channels increased, especially for migrants with access to bank accounts and credit cards. Many leading money transfer operators reported double-digit growth in their digital services, in sharp contrast to a fall in their cash remittance services.
The switch from cash to digital channels continued throughout 2020. Recent data showed that cross-border remittances processed via mobile money increased by 65% in 2020 (from $7.7 billion in 2019 to $12 billion in 2020), reaching over $1 billion in transactions sent and received each month.
It is believed that there was also a broad shift in flows from informal to formal channels in 2020. Since digital remittances are better recorded than cash remittances, especially those carried by hand or sent through other informal channels, official data are likely to record more remittances even if the true size of remittances may be falling.
Remittance Trends among South Asian countries during COVID-19 crisis
Inward remittance flows to South Asia rose by about 5.2% in 2020 to $147 billion, driven by a surge in flows to Bangladesh and Pakistan. Contrary to expectation, while the number of outbound migrant workers declined due to the COVID-19 pandemic, recorded remittances to the region remained resilient, perhaps partly due to a shift from informal to formal remittance channels (given restrictions on international travel), additional transfers to support families and friends in need (countercyclicality), and returning migrants choosing to make bulk transfers of savings. It is also possible that the greater use of digital money transfer mechanisms, due to drops in transaction costs and changes in tax policy on remittances, may have encouraged a greater volume of remittances.
Let's take a look at the trends in remittance inflows among South Asian countries for the past few years. The remittance inflows have consistently registered an overall increase with Bangladesh and Pakistan showing the highest surge of flows last year. Notably, Bangladesh and Pakistan had introduced new remittance tax incentives in 2019 and 2020 respectively.
In India, the region's largest recipient country by far, remittances fell by just 0.2% in 2020 to $83 billion, with much of the decline due to a 17% drop in remittances from the United Arab Emirates, which somewhat offset resilient flows from the United States and other host countries.
In Pakistan, remittances rose by about 17% in 2020 to a record high of $26.1 billion, with the biggest growth coming from Saudi Arabia followed by the European Union countries and the United Arab Emirates. Remittances from Saudi Arabia increased by over 46%, from European Union countries by 25%, and from the United Arab Emirates by 19%.
In Bangladesh, remittances also showed a brisk uptick in 2020 (18.4%), and Sri Lanka witnessed remittance growth of 5.8%. In contrast, remittances to Nepal fell by about 2%, reflecting a 17% decline in the first quarter of 2020.
The brief also highlights that South Asia still had the lowest average remittance costs of any world region at 4.88% in Q4 2020, down slightly from 4.9% a year before.
Impact of COVID-19 crisis vs. 2009 global financial crisis on remittances
This is not the first time that remittance flows have proved resilient during a crisis; the same thing was observed, for example, in the aftermath of the global financial crisis in 2009. However, the decline in recorded remittance flows in 2020 (1.6%) was smaller than the one during the 2009 global financial crisis (4.8%).
The brief explains that remittances often rise in times of financial crisis or natural disasters in the recipient country. Even during a crisis in the host country, migrants may try to reduce consumption (or rent payments) and draw on their savings to continue to send money home. During the COVID-19 crisis, the need for financial support for families back home has risen, for essential goods and services including health care. Remittances have provided a lifeline for families back home struggling with a loss of income and pandemic-induced economic slowdown.
The way forward for Remittances
Looking ahead, remittance flows to low- and middle-income countries are expected to increase by 2.6% and reach $553 billion in 2021 and by 2.2% to reach $565 billion in 2022. Remittances are expected to grow twice as fast in Latin America and the Caribbean and in South Asia, but they are expected to decline further in Europe and Central Asia and remain sluggish in Sub-Saharan Africa. However, these projections are subject to significant risks.
In this context, the brief also suggests supporting remittance infrastructure to keep remittances flowing should include efforts to lower remittance fees, which have continued to average above 6.5% in Q4 2020, more than double the SDG target of 3% by 2030. The average remittance cost was lowest in South Asia, at 4.9% while Sub-Saharan Africa continued to have the highest average cost, at 8.2%.
The relatively strong performance of remittance flows during the COVID-19 crisis also highlighted the importance of timely availability of data. Given its growing significance as a source of external financing for low- and middle-income countries, there is a need for better collection of data on remittances, in terms of frequency, timely reporting, and granularity by corridor and channel.
Featured Image: Global Remittance Inflows